Postpartum Belly Binder & Waist Trainer Supplier|Maufacturer
Make your design creativity free with sublimation printing
Sublimation Printing can be explained in a couple of ways. We'll cover all possible definitions in the following segments. Keep on reading and you will find answers to the following questions (and some more):
Transfer your creative design ideas from screen to fabric
What is sublimation printing?
How does sublimation printing work?
Is sublimation printing eco friendly?
Sublimation benefits and drawbacks
How can I order sublimation Postpartum Sweat Waist Trimmer from SheInShaper?
What is sublimation printing?
Sublimation printing was done on all garments made of fabrics that can absorb the entire design from a special type of paper when both the fabric and the paper are passed through a heat press under temperatures between 175 and 230°C.
The sublimation represents a direct switch of state from solid to gas without switching to liquid . It's solid on paper, gaseous when travelling from paper to the fabric, and finally solid again, once it penetrates the textile fibres. Now let's learn how and where that switch happens.
How does sublimation printing work?
Now that you know what sublimation printing is, let's learn how it happens in real life.
For sublimation printing to work, you need to have:
A design you want to print
Dye-sublimation printer
Dye-sub paper
Protection paper
Calender heat press
Fabric fit for sublimation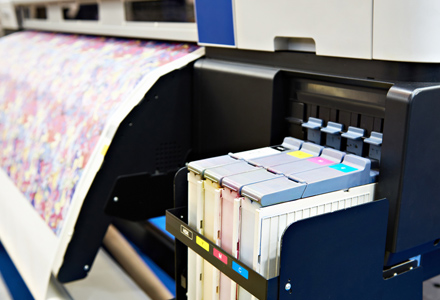 Dye sublimation printers
They're special types of printers that can usually hold rolls of paper weighing up to 45 kg, which is great for mass production. But inkjet printers can do that too. So what's the difference?
They're different from inkjet printers because instead of spraying the ink droplets onto the paper, they heat the solid sublimation ink and sublimate it onto the paper. The great thing about sublimation inks is that they're water-based and therefore 100% eco-friendly.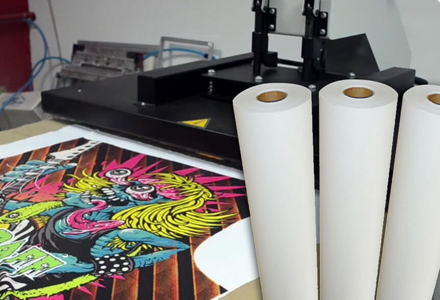 Dye-sub paper
A special type of ink needs a special type of paper to make things work. Dye-sub paper is special because its coating prevents the ink from becoming liquid and allows for the sublimation process to happen. This ensures the final result is a crisp image on the garment with no colour smudges.
If you were to try doing this with regular paper, you wouldn't be able to achieve a direct switch between solid and gas state. And with that, you'd risk bleeding the image and messing up your design in general.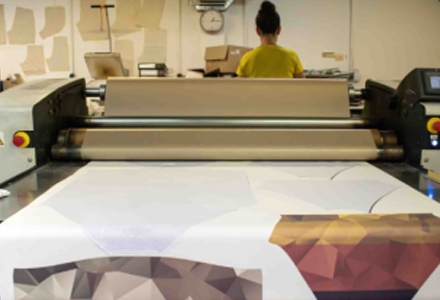 Calender heat press
You need high heat in order to transfer the ink from paper to textile, right? Well, to make it happen, you need a machine that will roll both the paper and the material as well as expose them to temperatures between 175 and 230°C.
Calender heat press is a machine that does all that. This means you will end up with rolls of fabric with design already applied to them. All that's left in that case is to cut and sew it.The image below shows the more typical case of dye sublimation – sublimating the pre-cut fabrics.
Is sublimation printing eco friendly?
The process alone is 100% eco-friendly. It can even replace traditional dyeing methods that consume too much water. And that means you can save hundreds of litres of water and just use 5ml of sublimation ink to achieve the same result.
Second, the ink is water-based and contains no harmful substances. The one we use even comes with an OEKO-TEX certificate which guarantees that the product is safe for human consumption since it has no harmful substances.
The only waste that this process generates is 100% recyclable sublimation paper.
Sublimation printing – benefits
Unparalleled colour retention
Uninterrupted breathability
Greater comfort
No limits when it comes to design
Sublimation printing –drawbacks
Of course,it has its limits
It only works well with polyester fabrics
The base fabric should be light-coloured
It fades quicker if exposed to direct sunlight too often
Limitless design opportunities
As we said before, dye sublimation uses the CMYK inks, which means all colours are available, Pantone included. From early 2020, even fluorescent colours are available.
How can I order sublimation Postpartum Sweat Waist Trimmer from SheInShaper?
The best way to order is to fill out our contact form at the bottom of the page. Here's what you can write in order to get the best possible price estimate:
Send us your printing pattern
Let us know what amounts you want to order
Write what city should the goods be shipped
It is possible that you won't have your own patterns. In that case, you can take a look at our catalogue , we can make a pattern just like that one and make a sample piece accordingly.
Unique One-stop Postpartum Recovery Solution For Postpartum Moms
Sheinshaper is a unique one-stop postpartum recovery solution provider that works with confinement center,postnatal rehabilitation center to help postpartum mom get back in shape and has trusted by over 100,000 women worldwide! Name:

Jen Huang
Tel:

0086-13433633833
WhatsApp
Address:

No. 122, Houjie Avenue West, Houjie Town, Dongguan city, Guangdong Province